Renew Skin & Hair Cells With PRP in Kansas City
Throughout our lives, our skin cells can become dull and low in glow. The same can happen with our hair follicles, except, unlike skin, our hair just falls out and thins. Platelet-rich plasma (PRP) can help!
But when you mix PRP with other well-paired treatments, you can see your skin glow again and your hair grow back to how you remember it. PRP can also be paired with treatments such as Skinpen Microneedling, Secret RF, and resurfacing lasers, all of which we offer here at Kansas City Skin & Cancer Center.
Whether you are facing hair loss or skin dullness, PRP in Kansas City can help you reach your dermatology and aesthetic care goals. At KCSCC, we're well-known for our fantastic treatments along with our care for both our patients and community, so you can feel confident when coming to us with your skin concerns.
PRP Overview
PRP Injection Highlights
What it Treats
Dullness
Skin Healing
Cell Boost
Uneven Skin Tone
Hair Loss
Procedure & Recovery Time
There is evidence that using PRP in treatments reduces downtime and recovery time. So because of this, downtime will also vary depending on the treatment.
Eligibility
Both female and male
Recommended to be 18 or older
Paired Treatments
Many patients that combine treatments notice better, faster results than doing one treatment alone. If you're interested in learning more about combining or scheduling multiple treatments together, contact us! 
Along with PRP, we also recommend:
Consultation
Consultations are where the Kansas City Skin & Cancer Center team truly gets to know you. We'll listen to your concerns, assess the current condition of your skin, and work with you to determine a treatment plan that fits your lifestyle and budget.
Ask any questions you want to while meeting with your provider. We are here to help you and make you feel comfortable and confident!
PRP Treatment
Your provider will make sure you are comfortable, clean the treatment area, and then inject the PRP. Depending on the extent of your treatment, the procedure time and products used vary.
Next Steps
Once the treatment is completed, we'll have a discussion to review any additional concerns, questions, and post-care. Then, you can schedule any follow-up appointments you may need!
Results
You may notice some results right away, like shinier, glowing skin, but your PRP results will progress over the next several days as your skin or scalp heals. Within a few days, your treated area will look younger, brighter, and refreshed.
Quality Care From Qualified Professionals
Our experienced medical & cosmetic staff combines decades of experience with a results-driven vision that achieves lasting results for our patients. The board-certified dermatologists that founded the Kansas City Skin & Cancer Center are trained medical professionals and received extensive training in skin care and medical dermatology. There's no one more qualified to treat your skin.
So, if you're looking for industry-leading care from unmatched experts, look no further than our team at Kansas City Skin & Cancer Center!
About Regenerative Medicine
Regenerative medicine is a broad medical field that includes tissue engineering but also incorporates treatments where the body uses its own systems, blood, and cells to multiply and rebuild tissues and organs.
Here at Kansas City Skin & Cancer Center we are well-known for our treatments and products as well as for their healing effects on our valued clients.
Personalized skin care is just a click away
Start your skin care journey with our virtual consultation tool. It allows you to select your areas of concern and determine which treatments may best meet your needs.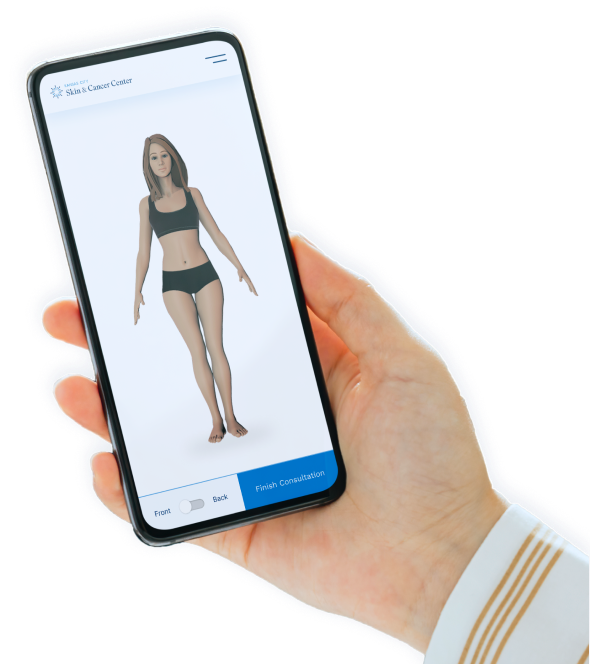 Common Questions About PRP in Kansas City
There minimal to no downtime with PRP.
For most patients, PRP injections are not painful. However, there may be some discomfort depending on the area of treatment and the extent or number of injections you are receiving. Before the treatment, we will be sure to review everything you should expect during and after treatment and help you manage any symptoms as they arise.
Normally patients benefit from a series of PRP treatments.
How often you should get PRP in Kansas City will vary. We recommend a maintenance schedule of about every 4–6 weeks. But this will depend largely on what treatment plan you are on and what treatments you are pairing with PRP. Our team can help you decide the best long-term care plan for your skin type and aesthetic goals.
The cost of a PRP injection treatment will vary based on the application we use and where you want it. After determining your treatment plan, we will discuss care costs during your initial consultation.
It depends! But most aesthetic treatments and services are not covered by insurance. It never hurts to look into it, so feel free to contact your insurance provider to get answers to your questions and then you can start the consultation process with us!
We are the leaders in skin, and provide result driven services and treatments. We care for our clients and customers, and we want them to be happy with their results!
See some amazing reviews from clients here!
Here at KCSCC, we have only the best providers for our clients! This means the best doctors, providers, nursing staff, aestheticians  and the best all-around staff just for you.
You can feel confident when surrounded by our staff. So set up an appointment to see just what we are all about here at KCSCC.
Dermatologists are specialized medical doctors who diagnose and treat a wide range of skin conditions, both medical and cosmetic. They have extensive medical training.
Medspas are non-medical facilities that mainly offer cosmetic treatments. They may not always have a doctor  on-site.
At Kansas City Aesthetic Center, our physicians are on-site, while getting treatments  in a spa-like setting!