Expert Skin Care with a Medical Facial in Kansas City
Our licensed aestheticians offer a variety of aesthetic services that improve the overall appearance of your skin!
Medical facials from the Kansas City Skin & Cancer Center will address your skincare concerns and skin conditions. Whether you need exfoliation, moisturization, deep cleansing, or a combination of these, a personalized treatment delivered by licensed professionals can address these issues for all skin types. Our expertise will leave you looking and feeling your best!
Medical Facial Overview
Medical Facial Treatment Highlights
What it Treats
Dry skin
Acne
Dark circles and puffiness around the eyes
Fatigued skin
Procedure Time
60 minutes or less
Eligibility
Men and women
14 years old and up
Recovery & Downtime
There is no downtime required. You will be able to return to normal activities after your appointment.
Paired Treatments
Many patients that combine treatments notice better, faster results than doing one treatment alone. If you're interested in learning more about combining or scheduling multiple treatments together, contact us!
Along with Medical Facial, we may also recommend:
Consultation
Consultations are where the Kansas City Skin & Cancer Center team truly gets to know you. We'll listen to your concerns, assess the current condition of your skin, and work with you to determine a treatment plan that fits your lifestyle and budget.
Medical Facial Treatment
Your provider will make sure you are comfortable in one of our treatment rooms. Next, they will clean the area for treatment, then apply the facial that suits your needs. Medical facials take about an hour or less to perform.
Next Steps
Once your medical facial in Kansas City is completed, your provider will clean your face and apply any necessary products. Afterward, we'll have a follow-up discussion to review any additional concerns, questions, and post-care. Then, we welcome you to schedule any follow-up appointments you need.
Results
You will notice the results immediately after your treatment. Your face will look and feel healthy, moisturized, with a visible glow to your skin.
Quality Care from Qualified Professionals
Our experienced medical & cosmetic staff combines decades of experience with a results-driven vision that achieves lasting results for our patients. The board-certified dermatologists that founded the Kansas City Skin & Cancer Center are trained medical professionals and received extensive training in skin care and medical dermatology. There's no one more qualified to treat your skin.
So, if you're looking for industry-leading care from unmatched experts, look no further than our team at Kansas City Skin & Cancer Center!
Personalized skin care is just a click away
Start your skincare journey with our virtual consultation tool. It allows you to select your areas of concern and determine which treatments may best meet your needs.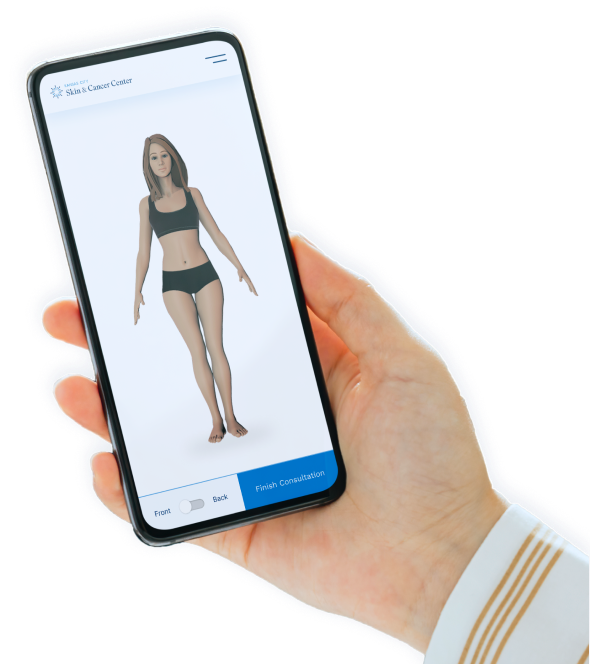 Common Questions About Medical Facials in Kansas City
Immediately after your treatment, your skin will look and feel radiant and hydrated.
How many medical facials you need will vary depending on the individual. After your first medical facial, you should notice the results right away, but depending on your skin's needs you may benefit from additional treatments. You can receive this treatment once a month.
There is no need for downtime after a medical facial in Kansas City. You will be able to return to normal activities as soon as your appointment is complete.