Fewer wrinkles and lines with Botox & Dysport
Years of laughs, surprises, and a well-lived life lead to permanent fine lines & wrinkles that may cause you to not feel as confident in your skin as you could.
Some of the most popular injections on the market, Botox® & Dysport® are certainly no stranger to the everyday wrinkle. First and foremost, these neurotoxin injections are used to reduce and prevent wrinkles caused by frowning, smiling, and other facial expressions.
However, we also utilize Dysport and Botox in Kansas City to help patients address a variety of other skin concerns. With the right injector, Botox can be used to give a subtle lift, smooth the signs of aging, and even provide a slimming effect on the face.
Botox & Dysport Overview
Botox & Dysport Treatment Highlights
What it Treats
Frown lines

Forehead lines

Top of the nose

Eyebrows

Eyes

Above the mouth

Jawline & neck

Chin
Procedure Time
15 to 30 minutes
Eligibility
Female and Male
18 or older
Recovery & Downtime
Depending on your tolerance, we may provide you with an ice pack immediately after your injections to reduce any redness or swelling you may experience. There is no required downtime with Dysport or Botox in Kansas City; most patients return to work or their regular daily routine after leaving our office.
Paired Treatments
Many patients that combine treatments notice better, faster results than doing one treatment alone. If you're interested in learning more about combining or scheduling multiple treatments together, contact us! 
Along with BOTOX & Dysport, we may also recommend:
Consultation
When you come to Kansas City Skin & Cancer Center for BOTOX, your trained injection specialist will first provide a free consultation to make sure you are an ideal candidate for injections, and to discuss your goals to provide a recommendation for which injectable will best meet your needs. When this consultation is complete, you will know how much product we will be injecting and exactly what it will cost.
Get Your Injections
We will then study your facial expressions and identify where targeted injections will have the highest impact. Since we utilize thin, tiny needles, most patients report feeling minimal to no discomfort. We can, however, provide topical anesthetic as necessary to ensure your comfort. After a 10-15 minute injection process, you will be able to leave our office and continue your normal activities. We only ask that you stay out of the sun without protection and you keep your head upright for 4 hours.
Next Steps
We will assess the treated area to ensure proper placement of the Botox & Dysport. We'll answer any and every question you have about the treatment, and give you instructions on the best ways to maintain your results. Then, we welcome you to schedule any follow-up appointments you need.
Quality Care from Qualified Professionals
Our experienced medical & cosmetic staff combines decades of experience with a results-driven vision that achieves lasting results for our patients. The board-certified dermatologists that founded the Kansas City Skin & Cancer Center are trained medical professionals and received extensive training in skincare and medical dermatology. There's no one more qualified to treat your skin.
So, if you're looking for industry-leading care from unmatched experts, look no further than our team at Kansas City Skin & Cancer Center!
Personalized skin care is just a click away
Start your skincare journey with our virtual consultation tool. It allows you to select your areas of concern and determine which treatments may best meet your needs.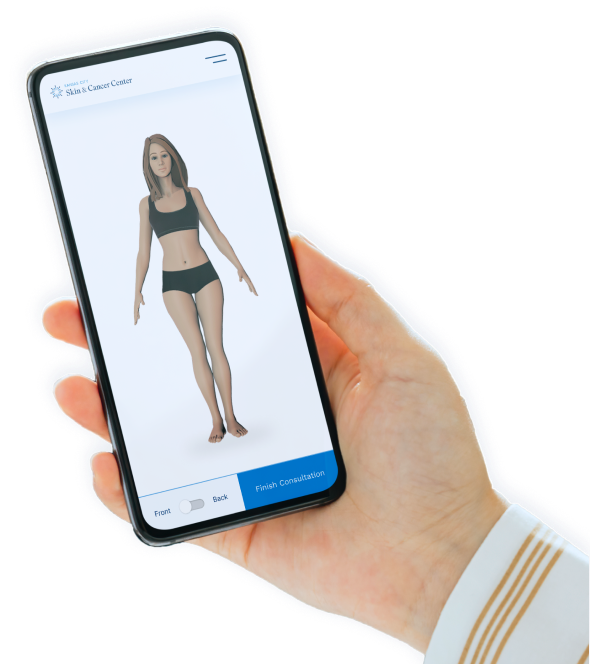 Common Questions About Dysport & Botox in Kansas City
You may begin to notice results from Botox & Dysport within 24 to 48 hours after your injections.
The results of Botox & Dysport generally last up to 4 months, depending on the patient's skin type and the depth & severity of their lines.
The Botox & Dysport injection process is quick. Once we complete your consultation and we've devised a game plan for treating your wrinkles, the injection process takes only about 10 minutes.
The experts at the Kansas City Skin & Cancer Center have years of experience performing Botox & Dysport injections. You can trust that we will deliver subtle, natural results from a highly trained and experienced medical expert in facial anatomy. No one should be able to tell you've had any "work" done.
The number of injections you get will depend on the severity of your lines and the number of lines you have. Generally, for crow's feet, we suggest 3 injections into the muscle areas that frame the side of each eye. For frown lines, you may receive up to 5 injections into the muscles between your brows and in your forehead. For forehead lines specifically, you may also receive up to 5 injections into the muscle.
Absolutely! Botox & Dysport treatments for men are common in our practice. Crow's feet, forehead lines, and frown lines are not exclusively an area of concern for women. Men get these wrinkles too over time and may wish to look younger and appear more refreshed.