Restore Your Skin with HydraFacial
Our patients love the HydraFacial treatment because it is gentle yet produces beautiful results.
During this medical-grade exfoliation treatment, we use anti-aging serums enriched with antioxidants, each customized to your skin's specific needs!
HydraFacials rejuvenate all skin types and will leave your skin glowing. They are non-surgical, non-invasive, and do not require any downtime for recovery. This treatment will even rehydrate your skin with noticeable results you can feel and see immediately.
A single HydraFacial treatment can reduce fine lines and wrinkles, increase firmness, reduce large pore size, and even out skin tone, texture, and brown spots!
HydraFacial Overview
HydraFacial Treatment Highlights
What it Treats
Black heads
Age spots
Oily skin
Uneven skin tone
Fine lines and wrinkles
Sun damage
Hyperpigmentation
Procedure Time
30-60 minutes
Eligibility
Men and women
14 years old and up
Recovery & Downtime
There is no recovery or downtime needed for a HydraFacial. You can return to normal activities and apply makeup immediately afterward.
Paired Treatments
Many patients that combine treatments notice better, faster results than doing one treatment alone. If you're interested in learning more about combining or scheduling multiple treatments together, contact us! 
Along with HydraFacial, we may also recommend:
Consultation
Consultations are where the Kansas City Skin & Cancer Center team truly gets to know you. We'll listen to your concerns, assess the current condition of your skin, and work with you to determine a treatment plan that fits your lifestyle and budget.
Cleanse & Exfoliate
Your aesthetician will begin by using a vortex cleansing and hydra-peel tip on the HydraFacial wand to gently cleanse and exfoliate your skin. This will remove dead skin cells and open up your pores.
Chemical Peel
Next, we will change the tip of the wand to one that delivers a light and gentle chemical peel. A mix of salicylic and glycolic acid loosens debris deep in your pores. Unlike other chemical peels, though, the ones used in a HydraFacial do not cause any side effects such as skin redness.
Extraction
In this step, we use a strong yet painless vortex vacuum to extract impurities, such as blackheads, from within the pores.
Hydrating Syrum
Finally, we will use a proprietary anti-oxidative and hydrating serum with peptides and other nutrients. This blend will soothe, hydrate, and rejuvenate your skin.
Next Steps
Once the treatment is completed, we'll have a discussion to review any additional concerns, questions, and post-care. Then, you can schedule any follow-up appointments you may need!
Results
You'll be able to see and feel results from the HydraFacial immediately. It is also mild enough that we can combine it with other treatments during the same visit.
Quality Care from Qualified Professionals
Our experienced medical & cosmetic staff combines decades of experience with a results-driven vision that achieves lasting results for our patients. The board-certified dermatologists that founded the Kansas City Skin & Cancer Center are trained medical professionals and received extensive training in skin care and medical dermatology. There's no one more qualified to treat your skin.
So, if you're looking for industry-leading care from unmatched experts, look no further than our team at Kansas City Skin & Cancer Center!
Personalized skin care is just a click away
Start your skincare journey with our virtual consultation tool. It allows you to select your areas of concern and determine which treatments may best meet your needs.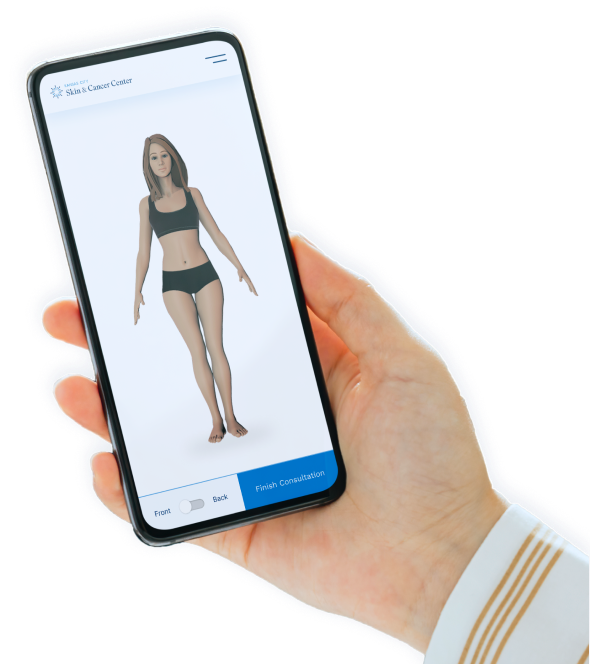 Common Questions About HydraFacial in Kansas City
Not at all! HydraFacials are completely pain-free; many of our visitors find that the HydraFacial is quite a relaxing experience.
When it comes to the question of how often to get a HydraFacial, every patient is different. After all, need and frequency will depend on your lifestyle and skin type. However, the majority of our clients find the best results when they visit us for a HydraFacial roughly once a month. This may change over time depending on your skin. We will always advise you on what is in the best interest of your unique skin.
What makes a Hydrafacial different from other facials, like our medical, anti-aging, and acne facials, is how suited it is to all skin types and sensitivities. Though our facials are all safe and effective, HydraFacial is much easier and gentler on the skin than some other available facials. It rejuvenates and cleans your skin without any discomfort during or after your treatment.
The answer is simple: Yes! One of the best things about HydraFacials is that it is safe and effective for all skin types.